Supply Chain & Logistics Online Training and Coaching
Built up over 35+ years, I've amassed a huge amount of Supply Chain, Logistics and Business knowledge that you can't learn from books. And I'd like to share that information with you.
Let me give you that 35+ years of experience 'canned' to just the essentials,
that will empower you and boost your success, just like it has mine! And… It's Free!
Have you ever found yourself in a situation where you were discussing a certain topic with a colleague and realised that,
You knew little about the topic
You didn't understand some of the terminology being used
You felt uncomfortable & out of your depth
Your future depended on you gaining more knowledge of this topic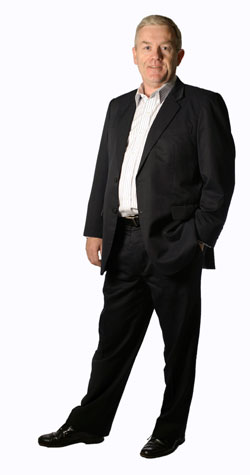 When it comes to the topic of Supply Chains, this is how many people feel. It doesn't matter whether you're a University Student, CEO or Warehouse Manager. Most people want to gain a better understanding of Supply Chain Management and the role it plays in business today.
You might have heard how I've helped hundreds of people from large multi- national corporations like Christian Dior; Shell; GlaxoSmithKline and Johnson & Johnson through my consulting business. Over the years I've helped them make significant improvements to their Supply Chains and their careers.
Over the last 15 years, I've worked with businesses on over 1,200 assignments saving them an estimated total of $1.87 Billion! I don't mention this to brag, but merely to highlight that the information I'd like to share is valuable.
Working with these top 500 businesses day in day out is immensely rewarding and satisfying, but I get loads of emails every day from individuals and managers in small and large businesses asking for advice on how to improve aspects of their Supply Chain and Logistics operations as well as career advice. So I decided that I'd really like to be able to bring all this knowledge and experience to a broader audience of people. That's why I've put together this site.
I've put together a package of information with as much detail as I can. And it's designed to:
Help you understand the Supply Chain and Logistics jargon and concepts you come across. So you sound like an expert!
Give you the Supply Chain knowledge that you really need and take you 'behind the shroud' to find out what it's all about.
Give you the 'right' knowledge. In an easy to understand 'chunk'.
Boost your respect and credibility as a business person.
Hand you the right information….fast. You're Time Poor and you Just want the 'good bits', you want the hands on practical stuff, that works so you can 'go into the Business World' with more confidence.
Provide the knowledge in Supply Chain and Logistics that will help your career and income potential. Just like improved knowledge in IT, HR or finance would also do.
So I've packed up all the essential things I think you need to know to Boost your Knowledge of Supply Chain and Logistics. With this 'step by step' practical information, in plain English, you'll make massive savings in your business AND enhance your career prospects with better pay rises and promotions.
This information will give you the knowledge and confidence to talk Supply Chain and Logistics with the best of them. It's taken me over 35 years to gain this knowledge, and I don't want you to have to wait that long. I've had a great career in Supply Chain and Logistics. I've learned what I know the hard way and made lots of mistakes along the way. So why would I want to give away free, the gems that I've learned over those 35+ years? What's the catch I hear you ask? Well, I know that if you get this information now, that if in the future your business needs the help of Supply Chain and Logistics consultants, your business is more likely to come to me and my company than one of my competitors. So I'm sowing a seed and you're getting the benefit.
And hey, I've met some great people along that 35 year journey who have enriched my understanding of business and so I think it's time I 'gave back' a bit to help those wanting to learn more. So if I can help you in your career, like others have helped me, well that makes me feel good too. When you fill out your details in the boxes below, you'll get all the information you need to allow you to start on the path to those goals. Good luck!!
Note: This online mentoring program now includes additional bonuses such as videos of live training seminars, and a complete eBook series!